Video of Yashasvi108 cooking this dish:
https://youtu.be/X3VE6z2Cqhg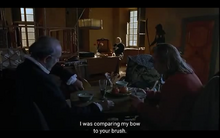 Inspired by this scene from Tous Le Matins Du Monde (All the Mornings of the World), you can see Monsieur de Sainte Colombe pour wine into his noodle soup as he introduces young Marin Marais to a famous artist (approximately 48 minutes from start of the film).
Check out Synergetic Stew: Explorations in Dymaxion Dining to get a sense of the author's personal vision.
This author's recipe is as follows:
+ 1-2 lbs of stew meat (try uncooked beef chunks or pre-cooked rotisserie chicken).
++ As this meal is similar to Japanese Shabu-shabu or broth fondue, consider thin slices for those with a delicate nature.
+ A variety of vegetables (can be made vegetarian obviously)
++ For example:
++ Two bunches of thin, sweet carrots
++ Two stalks of baby bok choy
++ One corn cob, slicing off the kernels, using them, and discarding the cob.
++ One package portabello mushrooms
++ One bunch cilantro leaves pulled from stems (stems are a little fussy to work with)
++ ETC to taste
+ 1 pint bone broth (preferably kitchen witch beef bone broth)
+ 1 pint cabernet sauvignon (black box will do)
+ 1-4 table spoons of ghee as desired (good when underweight)
Heat until boiling with all ingredients (can add meat at this step if you prefer rarity).
Turn off heat
+ Add couple pinches of turmeric and ginger power
Let sit until edible temperature, eat, and refrigerate.
Rinse and repeat [i.e. refrigerate and reheat; consume within 1 week unless using freezer].
Do be careful. This recipe will likely increase blood alcohol level.
Enjoy!
Fiction-wise, this recipe also is reminiscent of Futurama's "Bachelor Chow."
For Bachelor Chow, the maximally lazy caveman version:
Buy bunch carrots, pound stew meat, can broth.
Broth go pot
Carrots go pot
Bring boil
Stop fire
Meat go pot
No burn mouth
Eat no burn mouth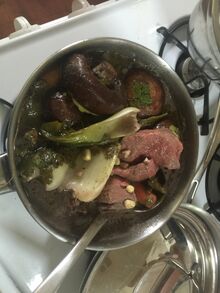 Yum