This spaghetti is made as part of a cooking lesson in the game Undertale.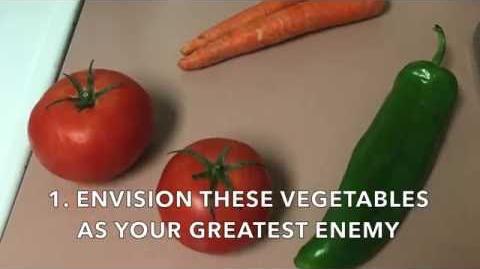 Recipe Instructions:
Edit
Let's start with the sauce!!: Stomp the ground, and vegetables (two tomatoes, a carrot, and...a banana? a banana pepper?) should fall from the ceiling.
Envision these vegetables as your greatest enemy!
Now!! Pound them to dust with your fists!!
Uhh, we'll just scrape this into a bowl later.
But for NOW! ...we add the noodles! (Stomp again, and a box of noodles, a pot, and a spoon should fall neatly onto the stove.)
Homemade noodles are the best! BUT I JUST BUY STORE-BRAND! THEY'RE THE CHEAPEST!!! NGAHHHHHHHHHHHHHHHHHHH!!!
Throw everything into the pot as hard as you can, including the box.
As a general rule of thumb, the more you stir...THE BETTER IT IS!
Now for the final step: TURN UP THE HEAT! Let the stovetop symbolize your passion! Let your hopes and dreams turn into burning fire! Don't hold anything back!!!
Once the house is on fire, have a heart-to-heart talk about friendship. Leave house, and continue your adventure.